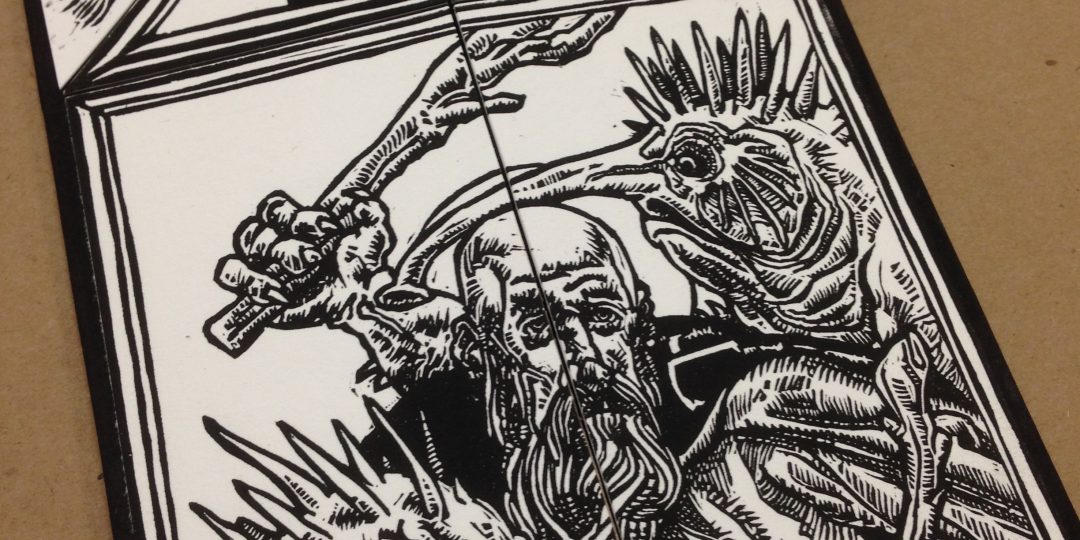 I've been digging around in the archives lately and I have come across a startling number of lino blocks that have only been printed once or twice. Once I get the image, it seems I lose interest in the print and want to move on. This is a character flaw and I think I will need to dedicate more time for strictly printing of the blocks I have already made. Either that or hire a staff of professional printers to do it for me.
One of the pieces I came across was this Altarpiece for Lent that I made a couple of years back. I think I only printed it once or twice… and then gave those away as gifts. And I never wrote anything about the finished piece at all!
Lent is the 40 day period before Easter (not including Sundays) that is used by Christians for self reflection, prayer, and penance. To reflect this I chose the scene of Jesus' temptation in the wilderness. After all, that is what we are imitating during this time, just as Jesus was in a way reenacting the 40 years of wandering in the desert of the Israelites. I inserted Boromir's line from The Fellowship of the Ring into Satan's mouth. "Are you sure you do not suffer needlessly?" It seems like very reasonable advice; very welcome advice. "This is too hard; take it easy. You don't need to suffer like you do!" Of course, heeding Satan's advice would be to renounce his entire work of obedience – the suffering was more than half the point.
Jesus tells us we are not greater than our master and that we too will suffer. I have included a couple of famous ascetics in this piece to show how Jesus' suffering and renunciation was carried out by some of the great saints. You'll find St. Jerome, St. Mary of Egypt, and St. Anthony Abbot on my little altarpiece.
This was a tricky piece to make. It required on large block and one small block of linoleum. After printing, it has to be cut up and reassembled on another surface (I used chipboard). I have a color version that I like very much and that I will show you soon.